CCIA 5th Annual Policy Conference
Use the Main Menu to See Our Partner and Member Events Calendar
1230 J Street
Sacramento
,
CA
95814
United States
Wednesday, March 18, 2020 (8:00 AM - 7:00 PM) (PDT)
Join CCIA staff, members and regulators on March 18th, 2020 in Downtown Sacramento for our 5th Annual Policy Conference! Come discuss a variety of of topics related to the cannabis industry and its regulation in the state of California. Come learn about our successes in 2019 and what is to come for the 2020 legislative year.
Speakers, Panels and Breakout Sessions to Be Announced!
Read our 2019 Comprehensive Legislative Summary and our 2020 Looking Head Preview
Early Bird $250 until 1/25
Regular Rate $400 until 3/11
Late Rate - $500 until 3/18
For information on sponsorship & participation please contact Gorettie at goretti@bertonlina.com (916)552-6887.
Missed our 2019 Conference? Click here to learn more about our 4th Annual Policy Conference or watch Panel Discussions here!
Not a member of CCIA? Join the industry's most influential state trade association and advocate for a sustainable policy! View our Membership Brochure to learn more or chat with our Membership Team at membership@cacannabisindustry.org today!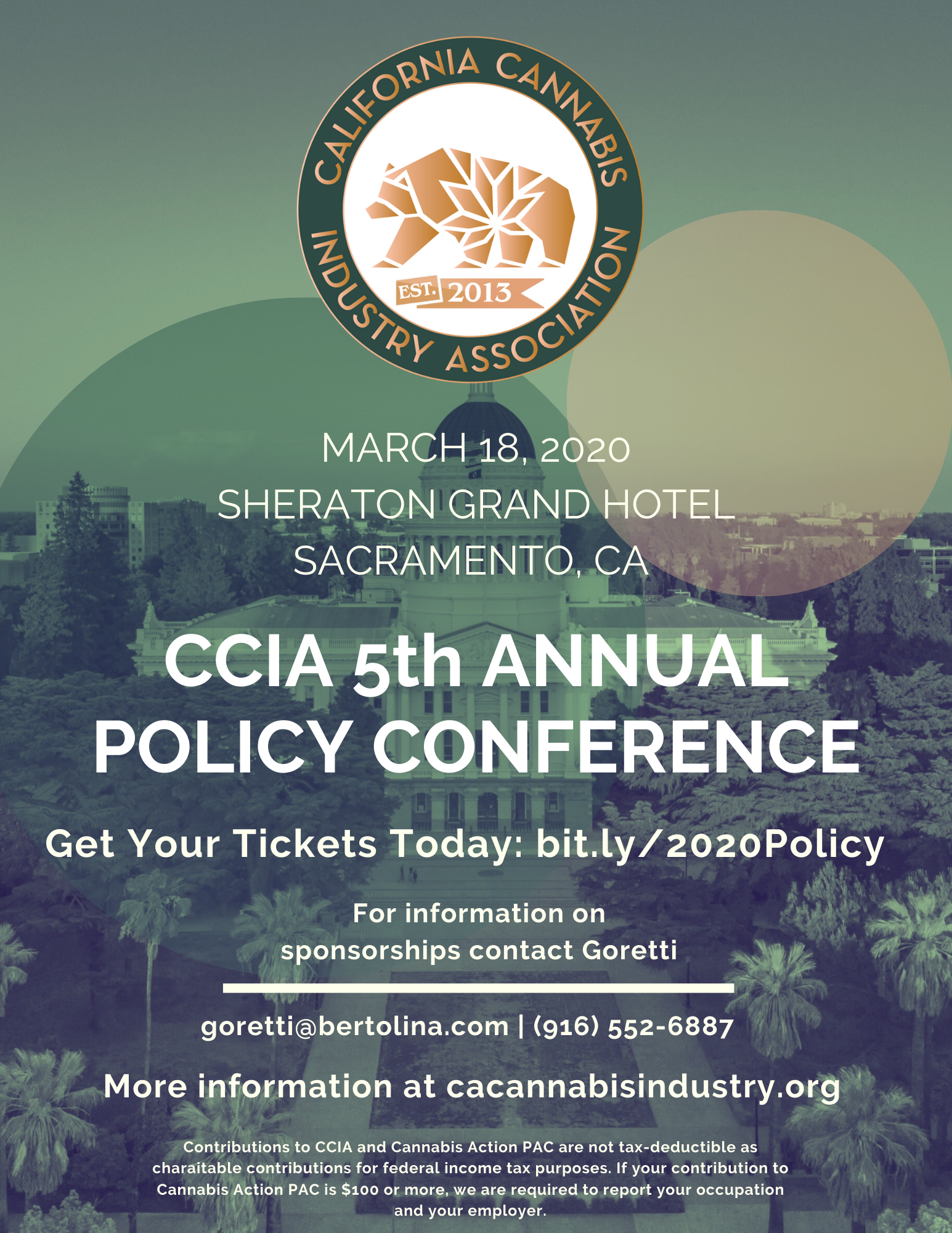 Videos
CCIA 4th Annual Policy Conference Panel: Challenge
CCIA 4th Annual Policy Conference Panel: Distribution, The Gateway Or Cog to Stability
CCIA 4th Annual Policy Conference Panel: Insuring The Cannabis Industry
CCIA 4th Annual Policy Conference Panel: Compliance, An In Depth Look At What You Need To Know
Event Contact:
CCIA Membership
Contact Organization:
California Cannabis Industry Association (CCIA)